Call 508-252-4300 with any questions. We're here to help!
Granite & Marble FAQs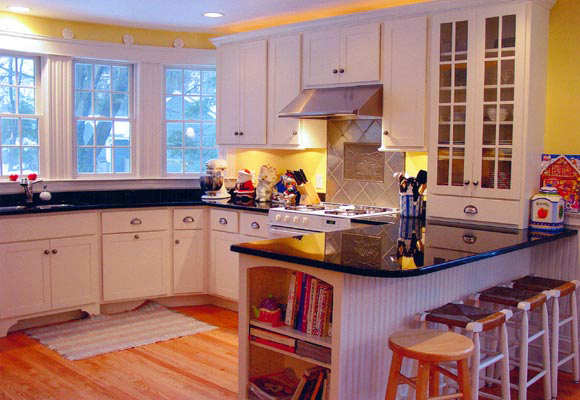 What is the difference between granite and marble?
Granite is a very durable stone and is much harder than marble. The main difference between granite and marble is that granite is a highly dense material composed deep inside the earth's core, while marble is formed from sediments under the seabed. Both solidify into stone after millions of years, but the mineral composition of the two stones makes marble and granite react differently to various chemicals and household cleaners.
Granite FAQs
Can my granite top be damaged?
Like any solid surface, high impact blows can harm granite. Because of its crystalline structure, it can chip if subjected to sharp hard objects. Unsealed, granite can absorb stains such as oil, which can ultimately cause dark spots or discoloration. Heat from pots and pans or burning liquids will not affect granite under normal circumstances.
Can I set hot objects on my granite countertop?
Granite is formed by extreme heat and pressure combined beneath the earth's crust. It can not be affected by heat from a cook top or frying pan. A lit flame placed under the granite will have no melting effect and will not leave any burned or scarred marks.
Can granite crack?
No, not with regular use. Granite is most susceptible to cracks during shipping and installation. Normal use will not overstress this durable material.
What is the appropriate thickness for a granite countertop?
A kitchen countertop should be an inch and a quarter thick for structural reasons. Bathroom vanity tops can be thinner.
How do I clean my granite countertop?
Granite will withstand almost any hot or cold element. Granite itself is approximately 95-98% stain resistant, but all natural stone products should be sealed to ensure lasting life and beauty. Polished granite should receive the same cleaning care as polished marble, preferably using specially formulated granite cleaner or using a mild phosphate-free, biodegradable liquid dish-soap which contains no aromatics. After cleaning, give the countertop a thorough rinsing and dry with cotton-flannel or chamois. When using a granite cleaner, let it sit for about 30 seconds and then wipe it off with a soft cloth for best results.
Marble FAQs
What is the appropriate thickness for a granite countertop?
No, marble is not a good choice for a kitchen countertop. Although it can be sealed, it is not as dense as granite and therefore it is more porous and susceptible to being stained in a highly used area like a kitchen. It is much softer and it will chip and crack under frequent use.
Can I seal marble?
Just like granite, marble is sealed after the fabrication process. Unfortunately, due to its porous nature, sealing marble is insufficient for everyday kitchen use.
What are the best uses for marble?
Marble can be applied to a number of projects in the bath area, like vanities, Jacuzzi surrounds, floor areas, and shower paneling. Marble can also be used for other applications, such as fireplace surrounds, tabletops, saddles, and shelves. Generally speaking, you can safely use marble in low traffic areas.